Some people want to access public records in Washington D.C. but don't know where to start. This is where Records Page comes in because its objective is to guide people through the intricacies of record hunting. That way, they can easily locate information about someone for free (or themselves for that matter).
Understanding Public Records of Washington D.C.
The Freedom of Information Act (FOIA) gives the American people the right to seek information provided by state and federal systems. DC's FOIA law, sometimes called DC Code §§ 2-531-532, allows others to obtain and examine public records. But, certain records have to be kept confidential like the ones covered under DC Code § 2-534.1
A person can utilize government resources or private websites to track down someone's public information. With that said, they have to learn how to locate the right documents, jurisdictions, and correctional institutions while conducting their research.
Criminal Records of Washington D.C.
Washington D.C. criminal records usually consist of someone's arrest records, name, and details behind their crimes. Examining an individual's criminal history lets business owners, shelter managers, and landlords know whether the subject is safe to be around co-workers, shelter residents, or other tenants.
Additionally, the person in question can even be given a second chance if their crime was a petty offense.
Open Record Laws of Washington D.C.
Due to DC Code §§ 2-531-532, Washington D.C. residents are more than welcome to access public records in the forms of photographs, books, video recordings, and other formats. They're not required to give a certain reason for doing so.
However, information like mental health records, answers to licensing exams, and law enforcement investigations are not public records in Washington D.C.2
Those interested in making a FOIA request can submit it online via the DC FOIA Public Access Portal.
Finding Criminal Records in Washington D.C.
People can obtain a criminal history clearance through the Metropolitan Police Department (MPDC). Nevertheless, they can only get information about themselves, and there are two ways to do that. Option A is for individuals who seek to expunge or seal certain arrest records. Option B is for those requesting arrest records for other reasons.
They also need to fill out the Criminal History Form located at Police Headquarters. Both methods cost $7.00, and processing time takes up to 10 days. Furthermore, they need to schedule their appointment online before showing up in person.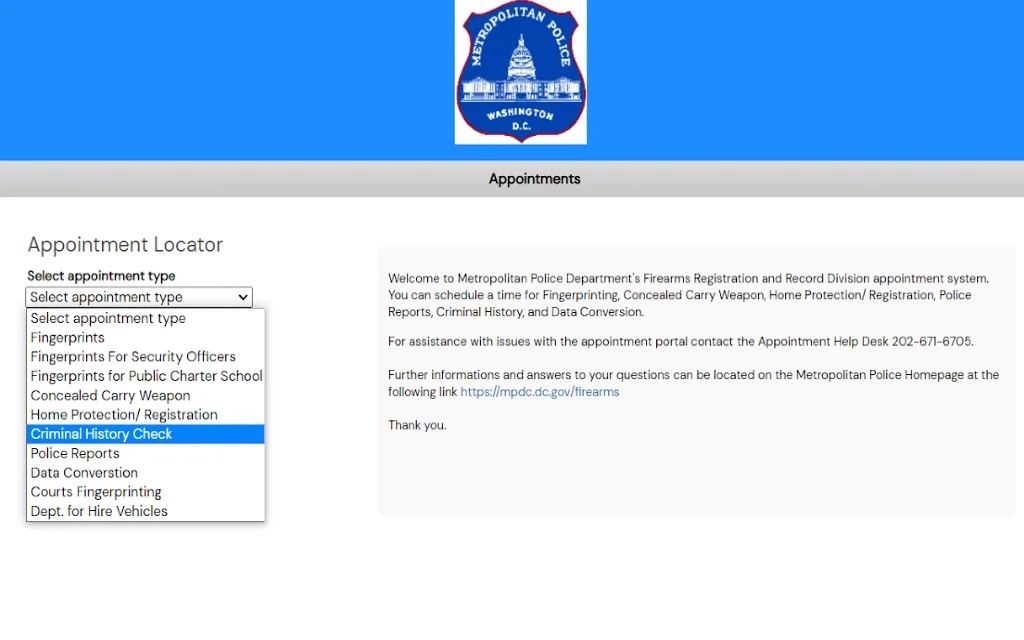 If someone can't come to the Police Headquarters or they happen to be out of state, they can request their criminal history by mail. (This process takes approximately six weeks.) Note that mail requests have to be overseen by a Notary Public. They need to mail their request along with a $7.00 money order to the following address:
MPDC
Criminal History Section
300 Indiana Ave, Northwest, Rm 1075
Washington DC 20001
Anyone who needs help retrieving their criminal history records or has other questions can dial 202-727-4245.
To locate someone else's criminal records, a person can research cases through the local courts or background checks, which is covered in more detail later in this article.
Washington D.C. – How to Check for Warrants for Free
Whether it's an arrest warrant or bench warrant, locals need to know where to find one, particularly if it's concerning themselves. The District of Columbia Courts (DC Courts) offers an active warrant list containing first and last names, middle names, and case numbers. Above the list is a search bar that allows site visitors to filter results by name, case number, and year.
The Warrant Information System (WIN) operated by the US Marshals Service (USMS) has a computer that gives others access to federal warrants. Its headquarters is located in Arlington, Virginia, so it'll take three to four hours for a D.C. resident to get there.
How to Search the Sex Offender Registry in Washington, District Columbia
The Sex Offender Registry provided by the MPDC features only Class A and Class B offenders. Class A offenders are those guilty of murder, first- or second-degree child sexual abuse of minors younger than 12, and other related crimes.
Class B offenders are people who committed crimes associated with kidnapping, third- or fourth-degree child sexual abuse, and indecent acts.
There are also Class C offenders, individuals convicted of sexual crimes towards adults. People can get information about all three types of offenders by visiting any of these locations.
The registry doesn't give out specific addresses; it's only limited to block-level street information. In addition, users can search for them by name or alias. Beneath the search bar is a "List All Offenders" link where people can click and read about each offender individually.
Residents can contact the MPDC Sex Offender Registry Unit for questions or report wanted offenders:
MPDC, Sex Offender Registry Unit
Ph: 202-727-4407
Email: [email protected]
People interested in tracking sex offenders across the country can check out the Dru Sjodin National Sex Offender Public Website. It allows site visitors to search by name or location up to a three-mile radius.
Various Background Checks in Washington D.C.
When someone hears the word "background check," they usually associate it with occupational requirements. While that's true in many cases, background checks aren't only for employment reasons. Background checks are needed to renew licenses, obtain firearms, adopt someone, and travel internationally. A person's past employment, driver's history, and current address are some of several details that show up on a background check.
Anyone needing a police clearance for employment or other purposes can refer to the criminal records section for instructions. They can also consult these guidelines for fingerprinting background checks.
Healthcare workers residing in D.C. have to apply for or renew their license as well as go through a fingerprinting background check via DC Health. Additionally, they have to abide by other regulations. International applicants have to adhere to these fingerprinting guidelines. They can go to the address below for ink fingerprints:
Civilian Fingerprinting Sec.
300 Indiana Ave, Northwest, FL #3
Washington DC 20001
Those wanting to apply for a concealed carry pistol need to complete and turn in an application along with a fingerprinting notification worksheet to the MPDC. Gun license renewals can be completed through the MPD e-Commerce Portal.
Court Records: Washington D.C.
Washington D.C. court records usually contain the names of the plaintiff and defendant involved in a certain trial, docket information, and any court convictions. Some records are accessible by anyone.
Others, like ones related to juvenile matters, are not public records in Washington D.C. People interested in obtaining juvenile records either need a court order to do so or they can contact the D.C. Superior Court Clerk.3
Washington D.C. is governed by two courts: the Superior Court and the Court of Appeals:
The Superior Court works with trials associated with civil disputes, criminal matters, crime victim monetary restitution, and other relevant cases. They also provide services like protection orders, child evaluations, and small estate proceedings.
The Court of Appeals is the state capital's highest court, kind of like its Supreme Court. It handles the judgments and final orders transferred from Superior Court suits. This court also supervises lawyers and Superior Court personnel.
Finding Court Records in D.C.
Individuals eager to search for public records would be glad to know that the Superior Court and the Court of Appeals each offer free online tools that let them look up case docket information. The Superior Court tool is called eAccess.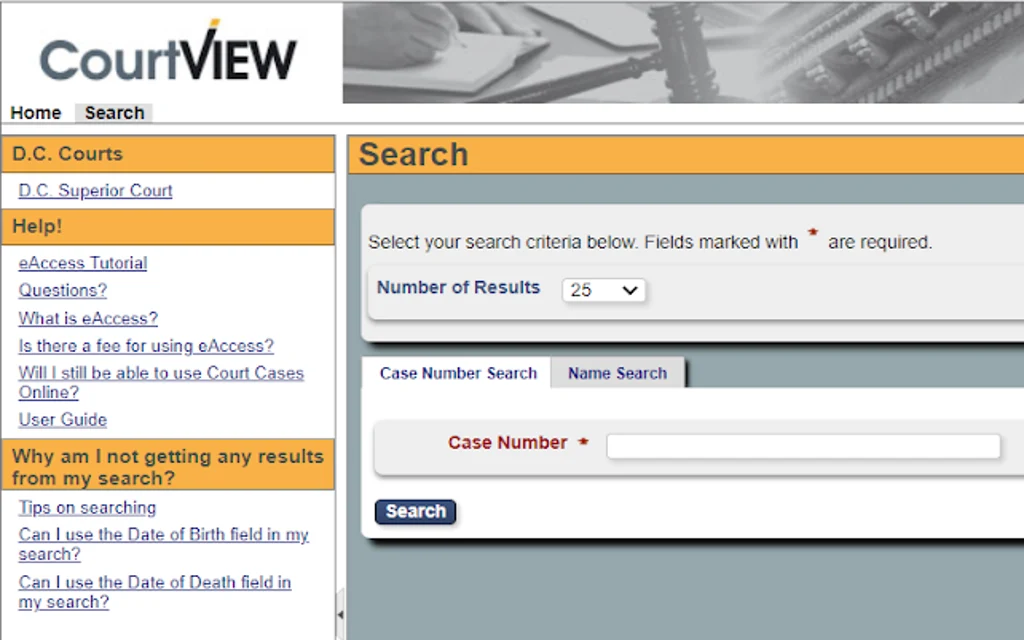 Once users type in a captcha code and agree to the site's terms, they can research by case number or name.
The Court of Appeals' e-filing system is similar to the Superior Court's case information tool since it allows others to search by name or case number. But, site visitors don't have to type in a captcha code to use it.
PACER (Public Access to Court Electronic Records) is a popular website for finding federal court or nationwide cases. Users can buy digital documents at $0.10 per page or audio files for $2.40 each.
If they don't mind leaving their home to search for cases, people can stop by the US District Court, District of Columbia. Visitors can utilize its public terminals to view and print out records at $0.50 per page. (Certified copies of records cost $11.00).
Archived case records are kept at the WNRC (The Washington National Records Center), a place that's closed to the general public. Someone can request a clerk to order records on their behalf and expect their order in about five to 10 days.
Those who want to explore civil docket reports from the past can visit the National Archives Museum. These reports date from 1902 to 1949.
Because these online/on-site locations only store docket information of public records, people need to contact any of the Superior Court divisions for non-disclosed, sealed, or expunged records. Furthermore, they can reach out to the Superior Court or the Court of Appeals directly:
Superior Courts
500 IN Avenue, Northwest, Ste 2500
DC 20001
Ph: 202 879-1400
Court of Appeals
430 East St, Northwest, Rm 115
DC 20001
Ph: 202 879-2700
D.C. Inmate Records
There are approximately 1,393 intakes and 1,645 releases from D.C. Department of Corrections (DOC) jails each fiscal year. About 28 percent of inmates released are sent to US Marshall Services located in Greenbelt, Maryland.4
Washington D.C. inmate records mainly consist of photos, name, birthdate, and charge and/or conviction. By learning this information, jail personnel can determine if inmates qualify for probation or parole.
How to Find Jail Inmates and Records in Washington D.C.
The D.C. DOC oversees two correctional facilities including a detention center and a treatment institution. In addition, it's partnered with three private halfway houses.
If someone wants to locate an inmate in one of those facilities, they wouldn't be able to do it through an online database since the D.C. DOC doesn't have one. However, they can obtain information by calling the MPDC Records Office at 202-523-7060.
Individuals who are crime victims can sign up for Victim Information & Notification Everyday (VINE) alerts. Members can track the status of certain inmates if they have their name or ID number. This service is free.
Visiting an Inmate in a Washington D.C. Facility
Once they find their imprisoned loved ones, many people look forward to seeing them, especially if they haven't spoken to them in years. The D.C. DOC provides video visitations at its Video Visitation Center. To schedule an appointment, prospective visitors can arrange it online or call 888-906-6394. It costs visitors nothing to meet up with inmates.
Inmate Communication
Relatives and friends can correspond with inmates by telephone and mail. Inmates have phones in their housing units and are granted calling privileges right after being taken into custody. Their family members can fund their phone accounts through Offender Connect. Those interested in sending letters have to ensure they include vital information like the jail address and inmate number.
Sending Money to D.C. Jail Inmates
Inmates need money to fund their phone accounts and purchase toiletries from the jail canteen. Their loved ones can provide monetary support via Western Union by phone, online, or in person:
Phone– They have to dial 800-634-3422 to make money deposits.
Online– People need to select the facility on the list and then input an inmate's name, ID number, and dollar amount before sending.
In-person– Individuals can use the Western Union website to find a location closest to their home.
Costs for this service are between $3.95 and $5.95 depending on the method someone utilizes. Those who send money via credit card may be charged extra fees.
Where to See Mugshots of Inmates in Washington D.C.
Law enforcement agencies provide mugshots to make it simpler for the general public to spot fugitives. Washington D.C. residents can locate mugshots of escapees through the D.C. DOC's Most Wanted page.
Clicking on the name of a fugitive gives users more information about them such as their charge date and conviction description. They can contact the DOC Hotline by dialing 202-715-7541 to aid officers in apprehending fugitives.
Other websites where people can view mugshots of wanted offenders include:
Locals can also consult their favorite newspaper or TV news channels for photos of inmates.
Finding Prisoners in Washington D.C.
Since Washington D.C. doesn't have any federal prisons despite being a federal territory, people can follow the procedures outlined in the "Jail Inmate and Record" section to locate inmates imprisoned in the D.C. DOC system.
If anyone knows of someone in federal prison, they should check out the Federal Bureau of Prisons (BOP). The BOP offers an inmate locator feature with prison records that date back to 1982. Site visitors can also find federal prisoners by entering a facility name, clicking a name from the facility list, or choosing a location on the map.
The headquarters of the BOP happens to be located in Washington D.C. Below is the central office contact information:
Central Office Headquarters
320 1st St, Northwest
Washington DC 20534
Ph: (202) 307-3198
Email: [email protected]
Visiting a BOP Inmate
If someone wants to visit a federal prisoner, they are required to follow a few guidelines before commencing their trip. After inmates are taken to a BOP facility, they're given a visitor information form. They have to fill out one part and mail it to a prospective visitor to finish the rest and send it back. Upon approval, the visitor has to review dress code rules and figure out how to arrive at said facility. Though many facilities offer visiting days throughout the week, most people visit prisoners on weekends and holidays.
Prisoner Communication
People can keep in touch with prisoners via phone, mail, and email:
Phone – Both inmates and their loved ones contribute to phone call payments. Most calls are monitored save for ones involving inmates and their lawyers.
Mail – There are two types of mail inmates can receive: general correspondence and special mail. Both of them are thoroughly inspected by prison personnel to ensure adherence to security regulations. Additionally, they can receive packages as long as they're medical devices or clothing articles.
Email – If they don't want to deal with the costs associated with letters and packages, inmates and their family and friends can opt for TRULINCS (The Trust Fund Limited Inmate Computer System). Unlike typical email platforms, TRULINCS limits prisoners' access to it, plus they can't surf other areas of the Web. Every message between correspondents is closely monitored.
Sending Money to a BOP Prisoner
Individuals can send money through Western Union, MoneyGram, and USPS:
Western Union- People who choose this option can follow the instructions listed in the "Sending Money to D.C. Jail Inmates" section. Here's a WU payment form for in-person payments.
MoneyGram– Friends and family members can pinpoint a location online or by dialing (800) 926-9400. Once they find it, they need to submit an ExpressPayment Blue form to an on-site location.
Online– To make an electronic payment, they have to visit MoneyGram Bill Pay and input BOP or receive code 7932.
USPS– Loved ones are allowed to send payments in the form of money orders only. The address is: BOP, PO Box, 474701, Des Moines IA 50947.
DC Vital Records Information
Vital records in Washington D.C. include divorce records, marriage records, domestic partnership records, death records, birth records, and more.
Who Can See Vital Records in Washington D.C.?
Anyone can view vital records in D.C., but some of them can't be accessible by the general public for a certain number of years. To extrapolate, birth and death aren't considered public records in Washington D.C. until they're 125 years old and 75 years old respectively.
Only those who are relatives or possess legal permission can request them.5
Marriage and divorce records can be obtained by any person whether they're related to the subject in some way or not.
Washington D.C. | See if Someone is Married or Divorced
Some people likely lost touch with a close friend or relative and wonder if they're now married or divorced. While many newspapers list people who got engaged or dissolved a marriage, not everyone has copies of those articles.
An individual may look for them via the DCVRD (DC Vital Records Division), but it only carries birth and death records.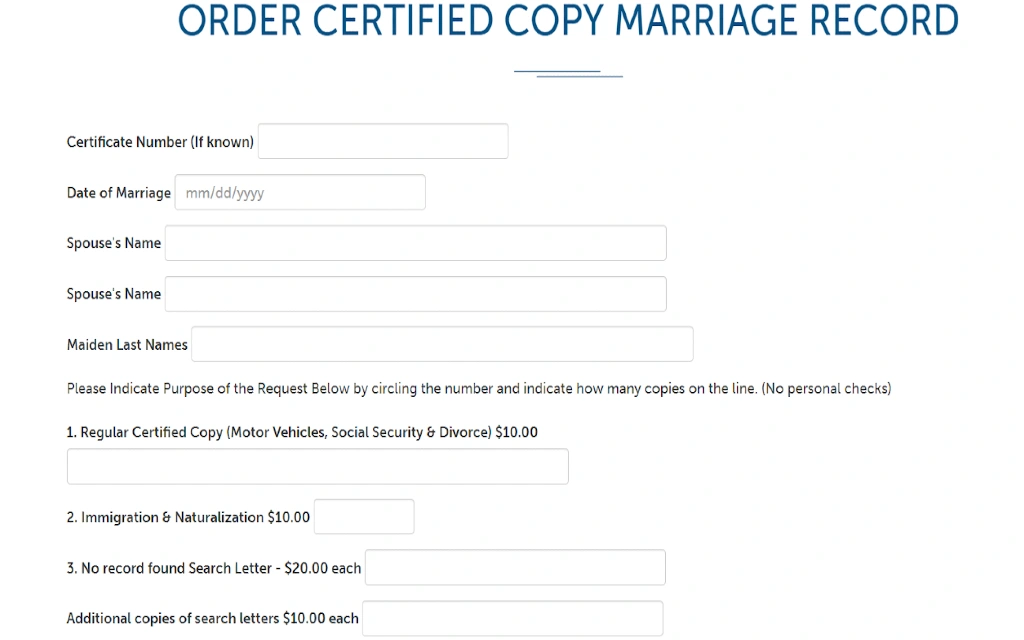 Fortunately, people can obtain them through the DC courts. To order marriage certificates, they can visit the Superior Court in person or get a copy online.
If someone wants a divorce certificate, they can stop by the Superior Court or print a request form from DC Court Services. To access this form, an individual needs to set the category to "Family" in the search bar, click "Search," and scroll down until they find the "DHS Certificate of Divorce, Dissolution of Marriage" form.
Request Replacement Death & Birth Certificates in D.C.
There are several reasons someone in D.C. may want to order a replacement death or birth certificate. Perhaps they lost it or accidentally stained it. Maybe someone caught a mistake on the certificate and wants to correct it as soon as possible.
Regardless of their purpose, Washington D.C. residents can purchase copies of death or birth through the DCVRD, and it offers lots of buying options including mail, phone, online, and in-person via its kiosks:
VitalChek– VitalChek provides mail, online, and phone ordering methods. Customers can call (877) 572-6332 to order with the aid of a customer service representative. They can also place orders through its website. Mail orders are fulfilled via DCVRD:
Vital Record Mail Services
Attn: D.C. Vital Records
PO Box 222130
El Paso TX 79913
Fast Birth Certificates, Express Vitals, US Birth Certificate, US Vital Records, and Birth Certificate State– These third-party vendors send patron information to VitalChek.
Kiosk– People use touchscreen computers provided by DCVRD to order in English, Spanish, or other languages. Next, they select the relationship to the subject on the record as well as offer proof of their relationship to said subject. Then, they answer a few questions about their identity before submitting their payment.
The cost of ordering a D.C. birth certificate is $23.00, and the price for a death certificate is $18.00. Depending on the ordering method, application processing fees are between $6.00 and $99.95. Below are the applications for birth and death certificates:
Researching government information can appear intimidating, but it's pretty simple once someone gets the hang of it. By reading this guide, individuals can better understand how to request public records in Washington D.C. for themselves or on behalf of someone else.
1Freedom of Information Act (FOIA) – Washington. (n.d.). DC.gov. Retrieved June 27, 2022, from <https://dc.gov/page/freedom-information-act-foia>
2Access to Public Records in the District of Columbia. (n.d.). Digital Media Law Project. Retrieved June 27, 2022, from <https://www.dmlp.org/legal-guide/access-public-records-district-columbia>
3Koehler, J. (2021, March 27). Navigating DC Superior Court. Koehler Law. Retrieved June 27, 2022, from <https://koehlerlaw.net/2021/03/d-c-superior-court-contact-information/>
4DC Department of Corrections Facts and Figures. (2022, April). DC Department of Corrections. <https://www.google.com/url?q=https://doc.dc.gov/sites/default/files/dc/sites/doc/publication/attachments/DC%2520Department%2520of%2520Corrections%2520Facts%2520and%2520Figures%2520April%25202022.pdf&sa=D&source=docs&ust=1656358309807013&usg=AOvVaw20YIAzYzc>
5Vital Records | doh. (n.d.). DC Health. Retrieved June 27, 2022, from <https://dchealth.dc.gov/vital-records>